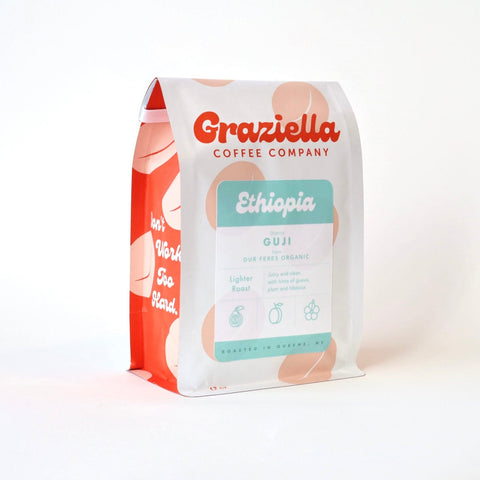 Light Roast - Ethiopia
Guava, Plum, Hibiscus
There's a reason the district of Guji is so revered amongst coffee lovers around the world.
What can you expect?
Tropical fruit, candy-like sweetness, and an emphasis on cup clarity
Our most lightly roasted coffee
a fun, dreamy pour-over
Bean Details
Country:

 Ethiopia 

Region

: Oromia, (West Guji)



Farm(s):

 Organic Dur Feres, Gr 2



Processing

: Fully washed



Altitude:

 2000-2035 

masl



Certifications: NOP and JAS Organic Certified, C.A.F.E. Practices

Origination
This coffee is proudly sourced via Catalyst Trade, a company made up of wonderful people who care deeply about farmers and laborers at origin. They say it best on their website, so here is a summary of who they are:
Our story is as much the tale of a beautiful partnership between our three founders, Zelalem Girma Bayou, Michael McIntyre, and Emily McIntyre as it is the chronicle of small business success under challenging circumstances. First connecting during the 2013/14 Ethiopian coffee harvest, the trio dug in and learned the murky ins and outs of the national coffee system with absolute stubbornness and determination. What emerged, over the years of challenges and triumphs, is a dynamic, vertically-integrated coffee importing business that is redefining how specialty coffee is pursued.

We are Ethiopian-American owned, woman-led, and devoted to equality. Our values of Sustainability, Excellence, and Innovation drive us in every facet of our business. And we are changing coffee for the better, forever.