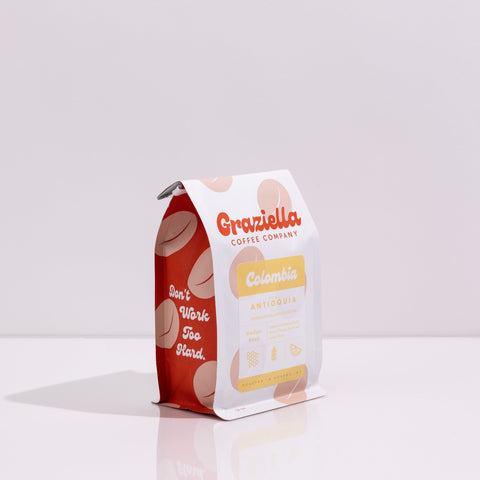 Medium Roast - Colombia
Honey, Florals, Sweet Citrus
What can you expect?
Sweet, smooth, supremely balanced

Wonderful daily drinker

Clean & balanced finish ensure you'll be back for a second cup
 Bean Details
Country: Colombia
Region: Huila
Farm(s): La Magdelena AA grade
Processing: Fully washed
Altitude: 1300-1900masl
Drying method: 

Sun-dried on parabolic covered patios or covered raised beds

Certifications: sourced via Certified B Corp importer
Origination
Pitalito (the municipality this coffee comes from) holds the distinction of being the second most significant municipality in Huila, following Neiva, the capital. It serves as the gateway to the Macizo Colombiano, an area where the Andes branch into the three Colombian mountain ranges, "cordilleras". It is also the birthplaces of five major rivers in Colombia! Nestled within a valley known as Laboyos, Pitalito is surrounded on one side by the Valley of Rio Grande de la Magdalena.
The interplay and influence of the Magdalena River gives rise to a diverse range of microclimates, playing a pivotal role in shaping the flavor profiles found here. Notably, Pitalito claims the title of being the Colombian municipality with the highest coffee production. Furthermore, the region is characterized by ancient oaks, mountain springs, and expansive forest reserves.

The importer we proudly worked with, Caravela, has had a presence in Pitalito dating back to 2004 when the company initiated collaboration with 30 local producers. The coffee growers contributing to La Magdalena epitomize values of conservation, cultural preservation, sustainable farming practices, and community engagement. La Magdalena stands as a testament to the notion that coffee farmers can enrich their quality of life through the cultivation of exceptional coffee.